A year ago I sowed a row of leeks. I planted some of them out later but two-thirds of the row got left.
As I forked them out, I realised that there were a lot of reasonable leeks amongst them.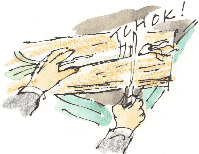 To speed up the process of chopping off roots and tops I used a large garden knife of my dad's.
Quicker than the hand shears I had been using.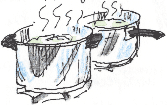 Barbara and I set up a production line; peeling, rinsing and chopping them.

The row of leeks, a little more than 2 feet long, converted into about 12 portions of leek and potato soup.

We also used vegetable stock, frozen garden peas, fresh chopped garden mint and black pepper.
No salt, oil or butter.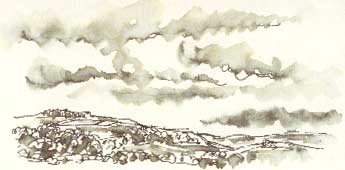 While we were out buying plants at Armitages this morning we took a break for a coffee and I did a quick Parker Reflex pen and waterbrush drawing of the view over Shepley.

Richard Bell, richard@willowisland.co.uk