Whitby from Sandsend
The tide was falling as we walked from Sandsend to Whitby along the beach but, after all the rain we've had, the stream we'd normally hop across was a bit too wide, so we headed off up the slope and followed the road around the golf course. It was grey, cool and lashing with rain most of the time but it was great to get out on the beach again with wind in our faces and the waves breaking and swishing on the sand.
A cormorant flew along offshore while a pair of herring gulls on the cliff top turf near the theatre appeared to have chosen a conspicuous nest site.
We browsed around some of the art galleries on Church Street (as well as Knitter's Paradise in the Wesley Hall, where I sat and drew while Barbara checked out the yarns).

Link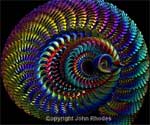 3D Utopia, in an indoor market leading off the little market square, features the 3D landscapes of John Rhodes.
'People seem to think that the computer does all the work in 3D art,' he says. I've dabbled in 3D landscapes myself and I can confirm that isn't the case.
His Metallic Spiral reminds me of the ammonite fossils, covered in fool's gold, which you can find on the beach at Whitby.
Richard Bell, richard@willowisland.co.uk