Cross bedding - a cross section of an underwater sand dune, is the way
I think of it - in one of the blocks in the wall of St Peter's church, Horbury

St Peter's, Horbury

I'm leading my Horbury Rock walk again, as I did for Yorkshire Geology Month last summer and for the Huddersfield Geology Group in the autumn. There are other sites of geological interest in the Wakefield area but I like going over my local patch again because each time I do it I pick up more information from the people I'm taking around. For instance, last time I discovered more about this history of Addingford Cutting (see 15th October, 2005).

Today Mavis Walsh, a pillar of St Peter's church herself, tells me that the stone John Carr (1723-1807), used for the St Peter's Church was Dam Stone, quarried from near Woolley Edge. That explains the small pebbles that you see in some of the blocks (above); Woolley Edge sandstone has coarser grains than other coal measures sandstones around Wakefield.

Before he became an architect, John Carr started out as a quarryman in Horbury so he knew his stone. I like the way he angled the cross-bedded sandstone on the pillars to produce an elegant effect, like drapes on the pillar.


Cross-bedding on pillar
Weathered Wall

Weathered wall, Shepstye Road, Horbury

Why didn't Carr use Horbury Rock? As we saw on our walk, when we took a closer look at this wall on Shepstye Road, Horbury Rock is prone to weathering.

There are probably three types of weathering at work here:

Abrasion: sand and grit being blasted along the lower courses of the wall by wind

Efflorescence (the white patches of mineral salts): minerals are being leached out of the wall as water seeps through it. This effect would be worse if the soil level is higher on the other side of the wall.

Salt: during winter, salt on the road gets splashed onto the wall. As the wall dries out, the salt recrystallises in the spaces between the sand grains in the sandstone, prising them apart.
Addingford Steps


Addingford, Calder Valley

Although there's an educational element to this walk, on an afternoon like this it's a pleasure just to step out of the familiar streets of Horbury and visit our local patch of countryside. I like to walk on my own, but, for a change, it's good to share the experience with a group.

We've got all this right on our doorstep but we tend to take it for granted. This is the view from Addingford Steps, the shortest way down into the Calder Valley from the centre of Horbury.
The Quarry Inn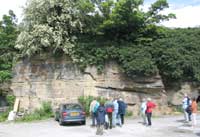 We're interested a feature in this quarry face behind the Quarry Inn.


300 million years ago in the Carboniferous period, the sand that would form the Horbury Rock was laid down in a river delta. It appears that here one of the river channels, the distributary channels as they're called in a delta, cut through an existing sandbank and then deposited assorted debris (resembling very poorly made concrete, above, centre) before the next bed of sandstone was laid down.


Horbury Quarry

As usual with these walks we end up by taking a look at the main face of the sandstone quarry on Quarry Hill, Horbury. As far as I'm aware, there are still plans for a residential development here. They're going to need to do some work to make the quarry safe. A geological fault runs to the west of the quarry face and you can see how the stresses have affected the rock. There are so many joints running through it that some blocks (far left) look as if they're almost ready to fall.

One way to make a quarry like this safe is to cut back the upper section - but there are already houses up on top, so that would be impossible here. It would be a shame to net the quarry face as this is Horbury's most striking landscape feature; the netting would obscure the geological interest.

Flagstone

Here's something else I learnt today. Alison Quarterman, chairman of West Yorkshire RIGS (geological conservation) group, which organised this and other geology walks for Yorkshire Geology Month, tells me that in West Yorkshire you can tell whereabouts in the geological column a sandstone comes from by its colour.

An example: this kerbstone (left, on Tithe Barn Street, Horbury) has a greenish grey colour, suggesting it is older than the buff-coloured sandstone we've seen in the quarry and in local buildings.

Older sandstones are greenish grey, younger sandstones (such as the Horbury Rock) are warmer in tone.

I guess that the EL carved on some of these kerbstones indicates that they are from a quarry in the Elland Flags - a type of sandstone that splits consistently, making it suitable for use as flagstones for paving.

Link

Richard Bell, richard@willowisland.co.uk