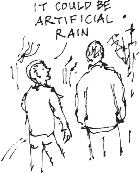 I was saying yesterday that I like walking alone. No chance of that today, Spring Bank Holiday, at Newmillerdam Country Park. Barbara and I like to walk around in the winter when it's quieter but it's great to see so many families (and their dogs) enjoying the park today.
I'll admit that children are a hazard to walkers, as they wave sticks and dog leads around their heads, or kick footballs into the lake (then whisper conspiratorially to the dog 'that was your fault!') but they're so amusing too. Like the boy speculating on whether we were really having a shower (right). Or the three small children making the rustic steps up to a bench look like the north face of the Eiger in their over-dramatised efforts to climb it.
Waterfowl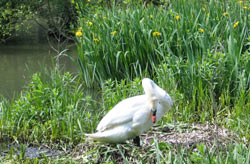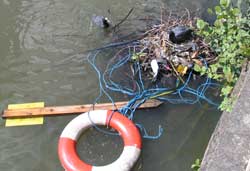 We take the half hour walk, around the lake. This morning there's a sparkle as the breeze riffles the lake and the sun through fresh green foliage is so relaxing.
It's good to see water birds looking at home despite the constant procession of people and dogs. I didn't spot any cygnets but the coots, (right), had a downy youngster with them.

| | |
| --- | --- |
| | Another pair of coots had built their nest near the overflow of the lake. |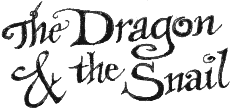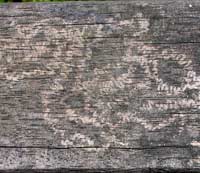 We call at Helen and John's for a coffee on the way back. It's always an inspiration to chat to them. John lends me Handwritten, Expressive Lettering in the Digital Age by Steven Heller and Mirko Ilic (hence the hand-lettering that has crept into this diary).
But even their patio table seems to have some graphic artwork inscribed on it. Snails or slugs have been crawling over the weathered surface, rasping it with their radulas (radula = a rasp-like tongue).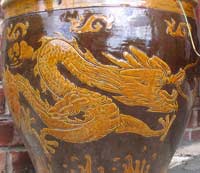 Don't you think that bit (right, top left) looks a bit like a dragon's head?
Perhaps the snails got the idea from the Chinese dragon on the flowerpot on the patio.

Links
Richard Bell, richard@willowisland.co.uk