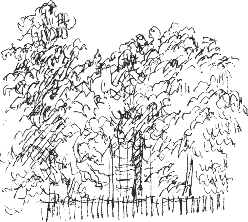 A young starling begs to be fed by the adult on the insect treat fat block. We've made a point of replenishing the fat blocks regularly since we saw the woodpecker but we're not going to be able to keep up with the starlings. At one stage this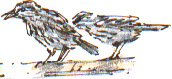 afternoon there were at least 3 starling families, perhaps 20 birds, gathering at the bird feeders in a squawking feeding frenzy.

A blackbird checks over the flower border and the lawn, pausing to sing in a way that suggests this is a routine territorial claim, compared with the song battles they indulge in at dawn and dusk. It's answering a rival which keeps singing two gardens away.


Make way for the Mushrooms
We're growing white cap mushrooms from an Unwin's kit.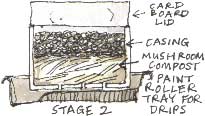 Stage 1: The first stage was to keep the mushroom compost moist in a dark, warm environment (in my studio with the cardboard lid sitting loosely on the box). There seems to be plenty of whitish growth (mycelium) in amongst the mushroom compost (which appears to be a mixture of manure and straw).
Stage 2: Today I added the casing peat. All that I have to do now is keep it moist and wait for the mushrooms to appear. They'll be tiny white pinheads to start with. At this stage you must be careful not to spray them with water.
New Cans for Old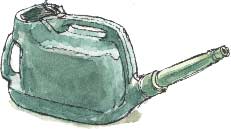 Our watering cans are cracking up one by one and I need some way of watering the box of mushroom compost in my studio (yes, there is a slight waft of manure in the studio at present! But it's not too bad, honestly).

I drill small holes in the lid of a large Kenco coffee jar which we finished this morning. If I did this again I'd use an even finer drill bit at the water comes out rather quickly!

Tip: cut a circular hole in the seal on the inside of the lid of the jar. If you discard the seal, as I did at first, it drips when you put the jar upright again. Believe me, I've tried it.

Richard Bell, richard@willowisland.co.uk