11.15 a.m. Rickaro Bookshop, Horbury

Socks the bookshop's border collie is '70' now, in dogs years, and is beginning to show her age but I have seen her so enraged by a passing dog that she's shot off after it, dragging the chair that her lead was attached to a foot or two across the floor. She's even got riled by dogs doing nothing more annoying than sitting there peaceably in the pub yard across the road, 20 yards away.

But she's very good with people.
Return of the Gas-mask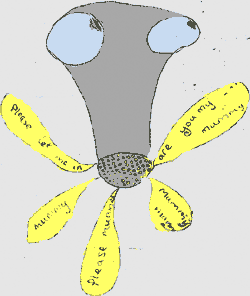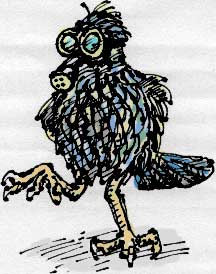 My great neice Emily gives me this drawing of a gas-masked boy character from a recent episode of Dr Who (I've added the colour in Photoshop).
'What are you drawing?' she asks me.
'Starlings,' I tell her (there are a few visible through the window), 'I'll draw you a starling wearing a gas-mask.'
When I was boy in the 1950s there were still gas-masks around and I remember the smell of the child's rubber gas-mask and the sound of breathing in one of them.
Gas-mask Grimshaw was a Grumbleweeds character. The Grumbleweeds, a northern comedy/music group, are currently billed at the Frontier Club, Batley, alongside 1970s pop group Showaddy Waddy and stand-up comic Bernard Manning. These acts have been appearing at the club, formerly the Batley Variety Club, for the last 25 years or so. They're in good company: Louis Armstrong, Tina Turner and Dave Allan have also appeared there.

Related Link
Richard Bell, richard@willowisland.co.uk