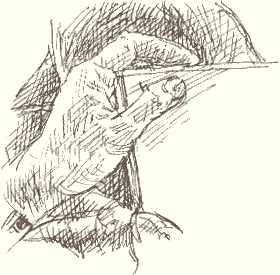 The Peak District sketchbook is slowly taking shape, as I stitch together pictures in Photoshop to fit them into the printed format and decide just which captions I want where.
I work slowly at this kind of thing, especially with the other distractions, like printing books today, that always crop up when I'm here at home.
I realise that I should do more writing when I'm out there on location. It's sometimes tough, getting out there and bracing myself against whatever the weather throws at me so I tend to do as much drawing as I can, then zip off back home. This leaves me with a lot of loose ends to tie up here, when I'm pulling everything together for the book.
In the long run, to save weeks of works at home, I would do better to spend half of each day on location writing, so that I'm putting the drawing into a context when everything is fresh in my mind. I can always edit it down later.
The other thing that would help would be always to work on the same format that the book will be printed in. I could design the pages as I go then, out in the field, without slaving over a computer here at home.

Richard Bell, richard@willowisland.co.uk