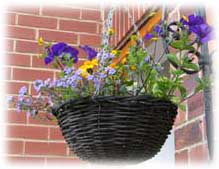 Barbara's pleased with the way this hanging basket which she planted up for the patio is coming on.

It's a lovely evening to sit outside for our meal. The birds are now so used to coming to the feeders that they don't bother about us. The chaffinches and greenfinches are usually about, a few feet away from us, although the goldfinches seem to be more shy, watching from the top of the crab apple tree as if they're waiting for us to go in.
The woodpecker hasn't come down while we're there yet but it has become a regular when we're not sitting out. It appears mornings and evenings but also at times in between (when we're less likely to be about to spot it anyway). I say 'it' but there are at least two great spotted woodpeckers visiting, a male and a female, the difference being the patch of red on the back of the head of the male, which is just plain black in the female.


Male pheasant 'grockling': a sudden gobbling cackle, followed by a shake of the wings. The garden would be SO peaceful without birds!!