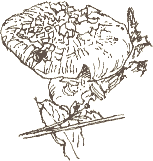 As I waited for the start of a meeting, I drew this fungus which was growing from a shrub bed outside Greenhead College, Huddersfield. The cap was emerging from a twiggy mulch that had been put over the bed. Cleavers, a scrambling weed with tiny hooks on its stems and leaves, was growing alongside it.
I think that it is Lepiota rhacodes var. hortensis, a variety of the Shaggy Parasol. As the name suggests, it is found in rich garden soil and on compost heaps from summer to autumn. It's said to be edible and pleasant, although this specimen was far too nibbled and shrivelled to be attractive but some people are allergic to it and it can cause gastric problems.

There's something in a flower bed nearby that is interesting a large rat, which runs away as we see it. Michael Brook of the Yorkshire Wildlife Trust, who has just turned up for the meeting suggests that it might be finding pieces of bonemeal in the bed which has just been planted out with summer bedding.

Richard Bell, richard@willowisland.co.uk