Richard Bell's Wild West Yorkshire nature diary
Silent Traveller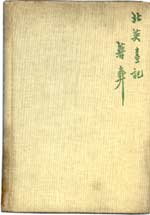 Wednesday, 10th January, 2007
I HAD TIME TO BROWSE in the secondhand bookshop in Normanton this morning. How could I resist this book?: The Silent Traveller in the Yorkshire Dales written in 1941 by Chaing Yee (1903-1977), published by Methuen. Before he set out for a life of exile in England in 1933, two friends took Yee to a foreign restaurant in Shanghai and he had his first taste of Yorkshire Pudding. An experience which he describes as like 'having Peking roast duck set before one in a Chinese restaurant in London.'
Not surprisingly he put off visiting Yorkshire for some time. He pictured the county as 'full of factory chimneys and smoke-blackened faces and hands'. The owner of Parcevall Hall, near Skipton, read Yee's The Silent Traveller in Lakeland (published in 1937 and still print today) and invited him to explore the Dales.
It's wonderful to see familiar Yorkshire landscapes translated into Chinese watercolours by Yee, for instance Simon's Seat (below), which overlooks Bolton Abbey in Wharfedale.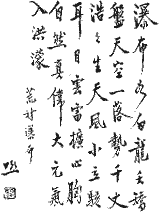 He includes poems too, in Chinese with an English version alongside. For instance, at a waterfall in the Valley of Desolation above Bolton Abbey he writes: 'I could not shake out of my mind the resemblance of the scene to a certain Sung painting, so, abandoning the attempt, I tried to draw the falls in Sung style. I also wrote the following poem':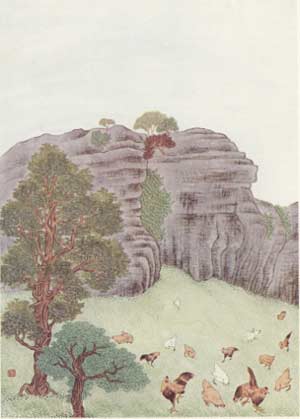 The waterfall is like a white dragon
Crawling in the sky.
Falling a thousand feet
It produces the heavenly wind.
It frightens my eyes and ears as I stand beside it,
But its clouds and thunder clear oppression from my heart.
Oh, how mighty is Nature!
She gives me a feeling of endless space.
His poems, travel writing and watercolours, such as 'Cocks and Hens in front of Kilnsey Crag' (right) give a new perspective on the wild Yorkshire.
Yee writes of the experience of being an alien in wartime Britain. He dedicates his book:
TO
WILLIAM
and
IN MEMORY OF THE LITTLE LONDON FLAT
IN WHICH I WROTE THIS BOOK
AND WHICH WAS DESTROYED BY BOMBS
ON THE EVE OF THE
RE-OPENING OF THE BURMA ROAD
I look forward to reading the it, just reading his introduction gives me an impression of this 'Silent Traveller'. I would have liked to have met him.