Richard Bell's Wild West Yorkshire nature diary
Earth Star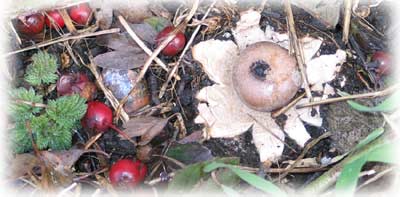 Tuesday, 9th January, 2007
THE ONLY TIME I'D EVER seen an Earth Star was in Austria a few years ago (right), so, when I tried out my Walks Around Horbury in November, I was astonished to see these two small 'stars' growing close to each other under hawthorns by a south-west facing stretch of the towpath of the local canal. Around them in the leaf litter are hawthorn leaves and berries, a nettle and the shell of a garden snail.
It was the AGM (the 134th AGM, would you believe) of Wakefield Naturalists' Society this evening so I took in these photographs to see if our fungus enthusiast, Chris Hartley, could identify the species. He brought in dried specimens of two of the dozen species of Earth Star that occur in the UK but it didn't seem to be either of those.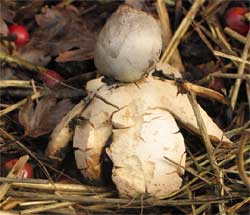 One species, Geastrum striatum, is distinguished by a collar below the central spore sack which, as you can see from the photograph (right), this didn't have. One of the species he showed me is found under beeches, often in large colonies, the other under conifers.
Looking at the photographs in Roger Phillips' and in Michael Jordan's field guides, I think this is Geastrum rufescens which occurs in both broadleaf and coniferous woods.
Earth Stars are rare enough in Yorkshire to merit an article in the Bulletin of the Yorkshire Naturalists' Union when they're found. Writing in the March 1985 edition of the Bulletin, Alan & Jean Hawkswell recorded 9 earth stars growing under a mature English Elm in mixed woodland at Mulgrave Woods, Sandsend. Those were Geastrum triplex, a species which they describe as having a 'pinky grey' star. The one I found is nearer 'yellowish watery-brown' as G. rufescens is described in the Lange & Hora field guide (Collins, 1963).
The Brackets of Mount Apo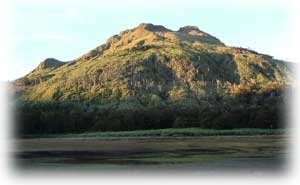 Here are some of the Bracket Fungi you could find along the Trail of Mount Apo (left), the highest mountain in the Philippines. A student at the University of Southern Mindanao, who has collected 29 species along the trail, has asked if I can help identify them at least at to genus level.
I can't and, other than saying 'that looks like Trametes . . . and that looks like Stereum . . . ', Chris couldn't help either, as he doesn't have any literature on fungi from that part of the world.
Can anyone help please?