| | |
| --- | --- |
| | The Music of William Baines |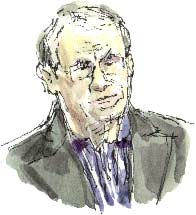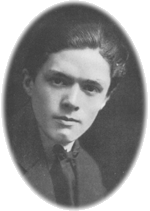 IF ANYONE IS qualified to talk about the music of William Baines (1899 – 1922, right), it's George Kennaway (left), sub-principal cello in the Orchestra of Opera North, who, under some difficulties, conducted the first, and so far only, performance of the composer's Symphony in C minor (1917) with the Airedale Symphony Orchestra at the Grassington Festival in 1991.
In a talk in Horbury library Kennaway relates Baines' compositions and progress as a performer to his background. Baines was born in Horbury, which research reveals to have been something of a centre for music at the time (although Baines eventually tired of performances of The Messiah and other oratorios at the local chapels). Far from being self-taught, as the press of the time sometimes suggested, he studied composition for six years with Albert Jowett in Leeds and he gave this up only after his family's move to York made the weekly lesson impractical.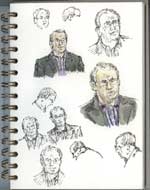 I'm leading a walk around Bainesian corners of Horbury on the anniversary his death, 6th November. On that day, the Horbury Civic Society are unveiling a plaque at his birthplace; a terraced cottage on Shepstye Road.
Links