Manorfields Folk
Richard Bell's Wild West Yorkshire nature diary, Saturday, 21st February 2009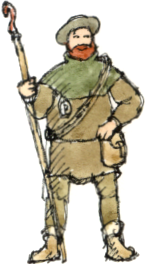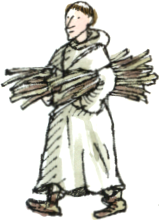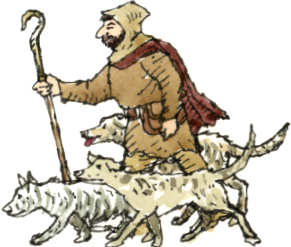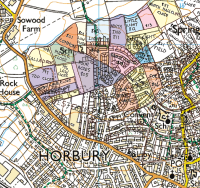 From Ordnance Survey Map, (Crown Copyright) & the Horbury Enclosure map, 1809, annotated by Ken Bartlett after the original in the Public Records Office.
The Horbury Pinder rounded up stray farm animals and impounded them in the Pinfold on Northgate.
'I have sought with my dogs
All Horbury Shrogs,
And of fifteen hogs
Found I but one ewe.'
THE 3 SHEPHERDS in The Second Shepherd's Play of the Wakefield Cycle of Mystery Plays soon realise that if sheep have gone missing to the south-west of the town, they need to call at the house of Mak, a local character who they've just seen behaving suspiciously. They've lost the sheep in Horbury Shrogs (rough ground with stunted trees) so it seems likely that the house of Mak and his wife Gill is in the village of Horbury.
In this Mystery Play - one of a cycle of 32 retelling the stories of the Bible in a west Yorkshire context - Horbury is only a short walk across the moor from Bethlehem, where the three shepherds present the infant Jesus with gifts of cherries, a bird and a ball.
The West Field
I recently tried superimposing the medieval field patterns of Horbury onto a modern map. The shape of the modern town closely follows the three-field pattern of the medieval village. For instance, one ginnel (path between houses), that leads from the old Pinfold at the top of Northgate to Manorfields, follows a boundary between Near Dove Cote and Well Done Cole Close. The modern B6128 Westfield Road (left) follows the boundary of the village's West Field.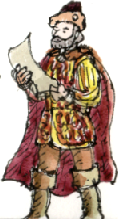 Horbury Hall, still standing opposite the church, has connections with the Amyas family and is said to have belonged to the man who kept the accounts of Sandal Castle
in medieval times.
In 1315 John, Clerk of Horbury, was fined sixpence for removing green wood from the Lord of the Manor's deer park north of the neighbouring village of Ossett.
As a clerk, John was one of probably only a few people in the village who could read and write. He would have been in holy orders but probably didn't wear the white habit of a Cistercian monk as I've shown him in my cartoon!
That's a penny fine for one stray sheep!