I GOT into the habit of using Noodler's Ink while working on my Rhubarb book but I've got several Rotring ArtPens, so I've given them a rinse, popped a blue cartridge in one (for writing) and a brown in another (for drawing when I'm not intending to add watercolour).
Good to have them flowing again.
I've just finished reading Danny Gregory's An Illustrated Life which has encouraged me to get back to drawing for pleasure and experimentation after all the artwork I needed to produce for my book.
Pen & Ink
Richard Bell's Wild West Yorkshire nature diary, Monday, 2nd March 2009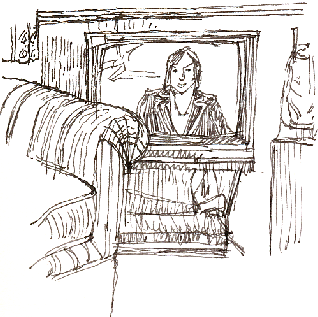 And I've just started a book I spotted in the library; Creative Pen & Ink Techniques by Ian Sidaway. I feel the need to explore the possibilities of the medium again.
With the stock market at a new low and, more surprisingly, the winning team on University Challenge being obliged to hand back the trophy, newsreader Fiona Bruce makes the most of her naturally raised eyebrows.