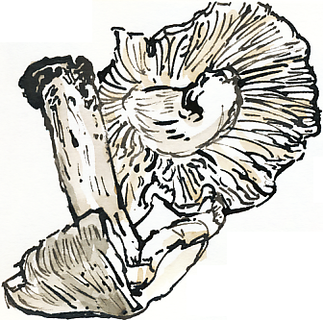 Spring Fungi
Richard Bell's Wild West Yorkshire nature diary, Sunday, 19th April 2009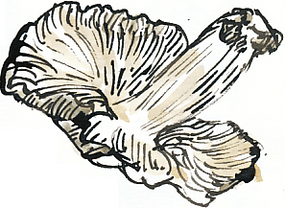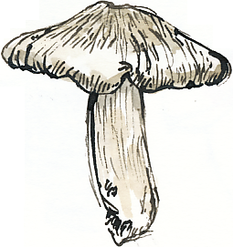 AFTER THE dry spell we've had, I wasn't expecting to find fungi as I cut back the ivy and overgrown herbs in a shady corner of our garden. The colour of the cap of this fungus is what I'd describe as 'oyster'; a warm greyish fawny brown, but I guess that doesn't make them oyster mushrooms.
I need more time to do a serious study of mushrooms an toadstools but today I couldn't resist drawing these two fungi and, as a change from my habitual fibre tip drawing pen, I took a reed pen from the drawer and used Rohrer's indian ink. I wanted to work in a loose inky way, rather than settling down to a serious study.
Since I wrote this page I've had some help with identification:
'My guess would be that they are Tricholoma (calocybe) gambosum (St George's mushroom); it's just about the right time for them. Have a sniff – they have a mealy smell and a firm texture.'
I've just sniffed them and yes, they have a strong mealy smell. I'll remember the name - St George's Day (23rd April) is my birthday - not a time of year that I associate with fungi.