Aerial View

Saturday 2nd December 2000, West Yorkshire





Nature Diary Rocks History Workshop Links Home Page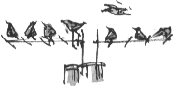 STARLINGS perch on next door's television aerials like notes a stave.



A Coal Tit feeds at the seed hopper. Today, for once, it isn't chased away by the Blue Tit that has laid claim to the bird table.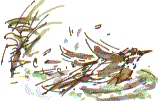 In the mid-morning sun a little brown bird is walking on the water plants at the edge of the pond, a miniature equivalent of the moorhen. It's a Dunnock, which starts bathing - dunking its tail and flicking its wings - punctuating the routine with the odd peck, as it notices some small pond creature that it has stirred up.



Richard Bell,
wildlife illustrator
E-mail; 'richard@willowisland.co.uk'

Next page Previous page This day last year Nature Diary Home Page