Mallards in Eclipse

Thursday 31st August 2000, West Yorkshire







Nature Diary
Rocks
History
Workshop
Links
Home Page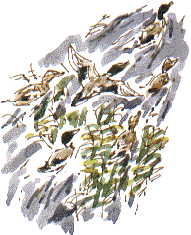 ON THE UPPER DAM in the wood all the ducks and drakes look more or less the same. The drakes are still in their late summer eclipse plumage, similar to the female's streaky brown. The dam is managed for ducks, visiting Canada Geese are discouraged by being shot, so that today there are more than one hundred mallards on the lake, which isn't much bigger than a couple of tennis courts.

There's an air of calm; quite a contrast to the spring when the drakes, in their full plumage, spend most of their time chasing the females.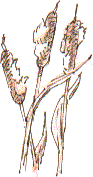 The lower dam is almost entirely covered with Yellow Water Lily, a few of which are still in flower. There's a single Coot swimming on the small open patch of water. Its two young dive for the cover of the reeds and Reedmace as we approach.




Richard Bell,
wildlife illustrator
E-mail; 'richard@daelnet.co.uk'

Next day
Previous day
Nature Diary
Wild West Yorkshire home page