---

New Year's Day




Wild West Yorkshire Nature Diary,
Saturday 1st January 2000
---
Nature Diary
Rocks
History
Gallery
Links
Home Page
---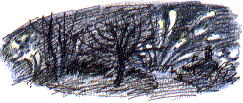 AT MIDNIGHT we look out across the valley, watching the fireworks of three villages bubbling and fizzing. Above them all Orion the hunter strides across the sky, towards Taurus and the Pleiades.

On our walk home an hour later, between the last bangs and whizzes of fireworks and the noise of traffic we hear several birds, singing from some of the trees near streetlights. We don't see any of them but, from what we can hear, most seem to be Robins.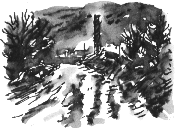 The River Calder, reflecting distant lights, looks exactly as it did before midnight . . . last year, or, if you prefer, last century. A thousand years ago it was a salmon river and for hundreds of years it remained an important source of food. Nineteenth century pollution wiped out the salmon. I hope that one day it will return.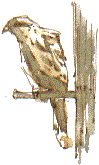 It's not until late afternoon that we get out on a walk. A Kestrel perches on an Ash by the marshy field.
The first line of a millenium pledge, read out by children, and by our Queen and the prime minister, at the Greenwich millenium celebration, suggests that we should do all we can to protect our planet. The scale of the celebrations suggests that people feel a need to make a new beginning.
Here's hoping . . .


Richard Bell,
wildlife illustrator
E-mail; 'richard@daelnet.co.uk'
---
Next page
Previous day
Nature Diary
Wild West Yorkshire home page

---