---

Water Voles




Wild West Yorkshire Nature Diary,
Sunday 2nd January 2000
---
Nature Diary
Rocks
History
Gallery
Links
Home Page
---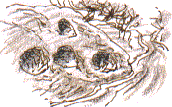 SECTIONS OF the low earth banks of Alverthorpe Beck, to the west of Wakefield, are peppered with burrows that are two inches or more in diameter. They are too near water level to be Kingfisher so they may be the work of Water Voles.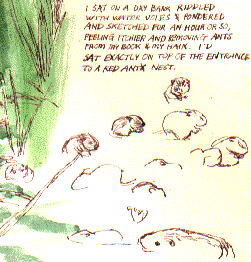 When I first set out with my wildlife sketchbook some 30 years ago water voles were reasonably common along the canal and adjoining ditches. These sketches are from the summer of 1975. When I disturbed one alongside the canal I'd hear a plop, then see a trail of bubbles as the vole swam away underwater. But occasionally as I sat quietly sketching, one would come out and start nibbling grass. They are short-sighted creatures, so if you are careful you can get quite close to them. They remind me of little beavers. They can grow to about a foot (30 cm) long, including the tail.
Their burrows can damage earth banks. I notice that crates of bricks have been used to strengthen the banks of the stream nearby for an extension to one of the greens of Low Laithes golf course.
One of their last local strongholds is, or was, Balne Beck which flows through a relict piece of countryside known as Alverthorpe Meadows. Roger Gaynor tells me that a few years ago he could expect to see five voles here. The last time he checked he could find only one. We saw none today.
The species is in decline across the country. I would guess the reasons might be;
pollution
loss of habitat
disturbance
the spread of the mink, (a predator) which has escaped from fur farms
The water vole, 'Ratty' in Wind in the Willows, is often referred to as the water rat so I expect that it is possible that, with populations in decline for other reasons, casual 'rat' shooting in urban areas might also affect them.


Richard Bell,
wildlife illustrator
E-mail; 'richard@daelnet.co.uk'
---
Next day
Previous day
Nature Diary
Wild West Yorkshire home page

---