---

Saddlebacks




Wild West Yorkshire Nature Diary,
Monday 31st January 2000
---
Nature Diary
Rocks
History
Gallery
Links
Home Page
---

WHERE THE CRACK WILLOWS grow, and lay tumbled, on the silted up bed of an old dam, we stop and watch a Goldcrest, apparently on its own, searching the branches and bark of a Hazel.

The goldcrest isn't a bird that I see regularly but I've seen them three times recently. I associate them with conifers but on these last three occasions they've been in broad-leaved trees.

Are they becoming more common? Are they changing their feeding habits slightly? Or is it that this winter I've had the chance to get out into the woods more often?



Emroyd Common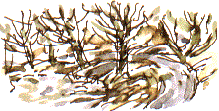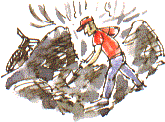 We take a detour over Emroyd Common, on the slope below Middlestown, a scene of mining and iron working around one hundred years ago. Avoiding the muddy main path we emerge from the fringe of Silver Birches, young Oaks and planted conifers at a clearing. A youth in a baseball cap is busy digging in the old coal workings. At first I wonder if he's picking out coal from the spoil, but no, he's creating jumps, an obstacle course for mountain biking.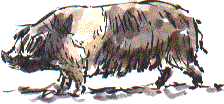 At the foot of the hill a rare sight; a few British Saddlebacks amble around a muddy paddock. Apparently they make good mothers, but are inclined to put on fat. There are four sows and a boar.

He looks somehow distinguished . . . it must be the beard.


Richard Bell,
wildlife illustrator
E-mail; 'richard@daelnet.co.uk'
---
Next day
Previous day
Nature Diary
Wild West Yorkshire home page

---