Ings Beck
Thursday 1st June 2000





Nature Diary
Rocks
History
Workshop
Links
Home Page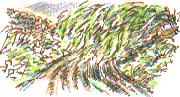 A WILLOW arches across the beck in this pocket-sized urban oasis. Jack-by-the-Hedge grows in green shade below. By the old stone wall on the opposite bank, umbels Cow Parsley are in frothy white flower and Hogweed is unfurling its leaves. On the disturbed ground of the drier bank above there's a lush growth of Stinging Nettles, foodplant for the caterpillars of Peacock and Small Tortoiseshell butterflies.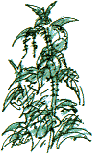 Himalayan Balsam is already knee high on damp mud at the stream's edge. In a month or so it will reach head height. As it's name suggests, it is an introduction, a garden escape that has made itself at home in Britain.
So is the Japanese Knotgrass. A stand of its canes grow by the bridge.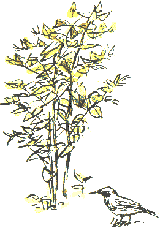 'Did you know it is the most aggressive weed in Britain at the present time?' asks an e-mail correspondent, Jane, 'with no natural predator in this country. It is proposed to introduce a special beetle from Japan to eradicate. Apparently Sigourney Weaver had it easy against the Alien compared with this aggressor!'
Kingfishers are occasionally seen here, although there's no sign of one today.
The stream runs alongside Ings Road, now an anonymous stretch of dual carriageway passing car showrooms and garages on one side and retail stores on the other. You could be at the edge of any town anywhere in the country. But its bland appearance masks a long history;
It was built as a turnpike road over 150 years ago to bypass the centre of Wakefield.


A Roman road, from the fording point across the Calder, passed approximately along the same route.


In 1333 the area was known as the Erlesing; the Earl of Warenne's water meadows.


Robert Hode, the Wakefield man who some suggest was the real Robin Hood, probably practised archery here. The town archery butts were situated a few hundred yards upstream, at a safe distance from the town.
Before the ings were enclosed they were used for horse racing.


Public meetings were held here, notably in support of the 1832 Reform Bill, when thousands of people gathered here.


Thousands gathered to catch a glimpse of Queen Victoria as the royal train crossed the viaduct on the day she opened Leeds Town Hall. In her honour they fired a cannon (one that had been captured from the Russians at the siege of Sebastopol in 1855). The Queen was seen to stand up in the carriage to see what was happening.


The Mines Rescue Centre, built here in the first half of 20th century (around 1910?), was demolished ten or more years ago. Only a blue plaque marks its site today.
Today most of the stream has been culverted. Only short lengths such as this remain as a reminder of the meadow that Robin Hood and Queen Victoria knew.


Richard Bell,
wildlife illustrator
E-mail; 'richard@daelnet.co.uk'

Next day
Previous day
Nature Diary
Wild West Yorkshire home page