---

Caddis-fly




Wild West Yorkshire Nature Diary,
Friday 1st October 1999
---
Nature Diary
Rocks
History
Gallery
Links
Home Page
---

A WASP joins us to check out a banana skin, as we're eating breakfast on the patio. We've seen very few of them this year.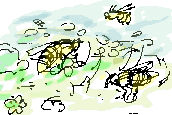 The dozen I saw yesterday on newly opened Ivy blossom were as many as I've seen together all year. The sketch (right) is from the first nature diary page that put on-line. A year ago, on Sunday 4th October, I recorded 30 wasps feeding on the same ivy bush.
For those who are interested, for that first diary I simply scanned pen sketches on my regular diary, then coloured the image on the computer. As that diary had lines ruled across the page I had the trouble of erasing them in Photoshop.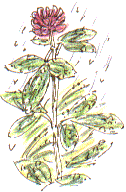 I've since decided that I prefer using a real paintbrush and palette to the mouse and the colour palette on the computer, so these days I scan from watercolour, or crayon, sketches.
By midday it is raining. Drops sparkle on the leaves of Red Clover, which is still in flower on the grassy towpath edge. Yellow Toadflax is also conspicuous.


On our window frame a Caddis-fly shelters from the rain. The beck in the wood is, apart from the odd incident, free from serious pollution and it supports plenty of caddis larvae. The larvae build a case of sand grains or plant fragments. In the spring I netted lots of them (right) in the pond on Heath Common.


Richard Bell,
wildlife illustrator
E-mail; 'richard@daelnet.co.uk'
---
Next day
Previous day
Nature Diary
Wild West Yorkshire home page

---