---

Devil's Coach Horse




Wild West Yorkshire Nature Diary,
Thursday 30th September 1999
---
Nature Diary
Rocks
History
Gallery
Links
Home Page
---

A DEVIL'S COACH HORSE scurries across the lane. I don't disturb it to encourage the beetle to give its threat display of raising its rear-end scorpion fashion and opening its jaws. I was once sketching one and a boy offered to catch it for me when it ran off. It nipped him.

Black Bryony berries have ripened in the hedge. This climber is the only British member of the Yam family. It twines anti-clockwise.
This has been the warmest September for fifty years and the tenth warmest since records began in 1659. At midday a single frog is croaking on the pond.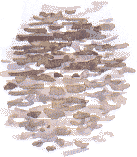 As rain stirs the surface of the canal Kingfisher flies and rests in an Alder bush for a few minutes, then flies off heading towards the two anglers who are sheltering under umbrellas.


Richard Bell,
wildlife illustrator
E-mail; 'richard@daelnet.co.uk'
---
Next page
Previous day
Nature Diary
Wild West Yorkshire home page

---