---

Deep Blue River




Wild West Yorkshire Nature Diary,
Sunday 30th October 1999
---
Nature Diary
Rocks
History
Gallery
Links
Home Page
---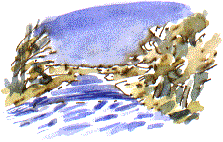 A WIND from the south west, a clear blue sky. Even the dull waters of the Calder sparkle.

Calder is likely the oldest place name we have in the valley. It means 'hard, violent water' in the Old British language, very similar to the Welsh, caled dwfr (dubro- in Old British).



In this wind the exposed fields on the valley sides are deserted. Only a couple of Black-headed Gulls struggle on above the emerging winter wheat.

Gorse, as ever, has a few spikes of yellow blossom. Smooth Sowthistle is also still in flower.

A Wren flits around the front garden and poses, tail-cocked, on the wall.


Richard Bell,
wildlife illustrator
E-mail; 'richard@daelnet.co.uk'
---
Next day
Previous day
Nature Diary
Wild West Yorkshire home page

---