The Wild Side of Wakefield

Friday, 26th January 2001, West Yorkshire






This Month Rocks History Workshop Links Home Page




IN THE HIGH WALLS of Wakefield Prison there is cross-bedding in gritty sandstone that was laid down in the large fast-flowing rivers that crossed 'Yorkshire' 300 million years ago, long before the dinosaurs even started to evolve.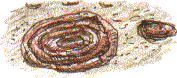 Some blocks contain small ironstone pebbles. In an embankment wall by the railway there's what looks like a rolled up sheet of ironstone.



The 99 Arches
A belt of scrubby woodland on the banking above is composed mainly of Sycamores with a tangle of Brambles at the foot of the slope. It's a habitat, at the city end of the railway viaduct known as the 99 Arches, that gives some opportunity for wildlife to move right into town, between retail park and Intercity station. I've seen butterflies, rabbits and a variety birds from the end of the platform as I've waited for a train.



I pause to look at a short stretch of Balne Beck that's now boxed in amongst acres of car parks and retail units. Most people wouldn't realise it was there. There's no obvious wildlife on the beck here today, nor on its shallower section, where it acts as a moat at the foot of the prison walls, but over Westgate Beck, alongside one of the busiest roads into the city, a few Black-headed Gulls swoop down over the water, calling excitedly and bringing just a touch of the animation of seaside town to this land-locked city. They're not yet in their chocolate-brown caps. Some birds have a dot behind their eyes, or a small arc of dark feathers; as if they're wearing earphones.


Canal Basin


By the 18th century warehouses of Wakefield's canal basin there are a few Tufted Ducks and a male Mute Swan. During November's floods water lapped around the front door of the Jolly Sailor public house, but it stayed open; the regulars used the back door instead.



Richard Bell,
wildlife illustrator
E-mail; 'richard@willowisland.co.uk'

Next page Previous page This day last year This month Nature Diary Home Page