Peanut Feeders

Tuesday, 16th October 2001, West Yorkshire






This Month Rocks History Workshop Links Home Page



LAST YEAR we noticed that the peanut feeder on the bird table never needed a refill, although the bird seed was as popular as ever. Was there plenty of natural food for the birds that normally go for the peanuts? Was it the particular batch of peanuts we'd bought that they found distasteful?



It might have been the exceptionally damp wet weather that we had last year. We had a series of flood alerts, reaching their peak last November. This seemed to cause the peanuts to go mouldy almost as soon as we put them out.

They're popular enough this morning with Blue and Great Tits and, of course, with the House Sparrows.


A Beauty Spot or Landscape Blot?
DEADLINE FOR PROTESTORS OVER HORBURY BEAUTY SPOT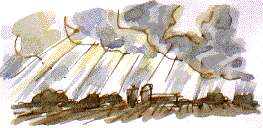 Is the headline on the billboard. What deadline? Protesting about what? And does Horbury really have a beauty spot?

The people who write the headlines certainly know how to grab my interest.

There's nothing in the newspaper, the poster must refer to a previous issue, so I e-mail the local reporter.

The beauty spot in question is the valley; I'm glad it's not just me who thinks of it that way. The protests are over a plan to build a bungalow on the valley side, next to a piggery.



Richard Bell,
wildlife illustrator
E-mail; 'richard@willowisland.co.uk'

Next page Previous page This day in 1999 This month Nature Diary Home Page