Sandy Lane

Friday, 2nd November 2001, West Yorkshire






This Month Rocks History Workshop Links Home Page



THERE'S A STEEP hedgebank where Sandy Lane cuts through a small outcrop of sandstone as it starts to climb the valley side towards Middlestown. The variety of woody species in the hedge - Oak, Hazel, and Hawthorn -

indicate that this is a long-established boundary. Ivy and Wood Sage grow on the steep banking below.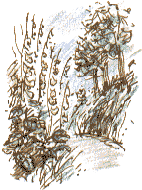 Sandy Lane was the original turnpike road from Horbury Bridge to Middlestown, approved by an Act of Parliament in 1759. It was superceded by New Road, the present-day A642, Wakefield to Huddersfield road, at some time prior to 1841. The original stone-built toll cottage for this road still stands close to the Midland Railway viaduct.


The Bar House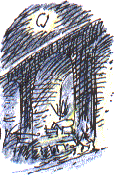 An old postcard shows the new toll cottage which was built in Gothic style. Some time after the toll bar was removed in 1882 this cottage was demolished, stone by stone, and rebuilt less than a mile away at the top of Balk Lane in Netherton.

The Midland Railway Viaduct which opened in 1906, is now disused but is currently being repointed. It's surprising how the removal of trees growing on and around it has made this huge monument to the railway age stand out again.



Richard Bell,
wildlife illustrator
E-mail; 'richard@willowisland.co.uk'

Next page Previous page This day last year This month Nature Diary Home Page