Orange Spot

Thursday, 22nd November 2001, West Yorkshire






This Month Rocks History Workshop Links Home Page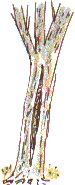 A DEAD LIME tree on Lowe Hill in Wakefield's Thornes Park has been marked with an orange spot for felling. A nine foot gash in its trunk appears to be the result of a lightning strike. As I understand it, the sap turns to steam instantly when the tree is hit, splitting the bark open with explosive force.

The blackened wood (blackened by decay, not burning that is) revealed in the scar is now peppered with woodworm holes.



I can see why it has to go, here in a public park, but this will be a loss to wildlife. Dead wood provides a habitat for fungi and invertebrates. Cavities become nest holes for woodpeckers, tits and, who knows, perhaps for a nuthatch some day. In London small areas of each park are fenced off, which allows more scope for managing the habitats for wildlife. I appreciate that one of the attractions of a public park is the freedom to get away from roads and roam at will, but I think there's more scope here to make the most of some of the quieter corners to attract wildlife. A pile of logs would help but a standing tree would be better for nest sites.


Wakefield Skyline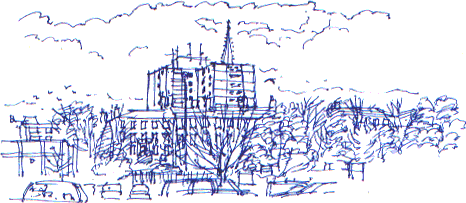 This view, sketched from Sainsbury's café, is more open than it would normally be as a car showrooms has recently been demolished for redevelopment. It's remarkable how many trees there are in this part of Wakefield, around the Georgian terrace of South Parade.

The other striking feature is the precision in the placing of that 1960s block of flats, Firth House, so that, seen from the Denby Dale Road approach to the city, it perfectly obscures the medieval spire of the cathedral.

There's a good story about those mobile phone masts in Wakefield. So many people want the convenience of a mobile phone, but many are wary about the possible long term effects of living adjacent to a transmitter. The story is that it was leaked that a mast would be erected on a particular block of flats on a particular day. Residents went to the trouble of organising a picket and a protest. It turned out that the transmitter was being erected that day . . . but on another block of flats!

Clever ruse isn't it?

To help eke out school funds my old school, Wrenthorpe Infants, agreed to have a phone mast erected on the roof. This caused such a stir that the mast is now being re-sited. A relief to some of the parents, but the residents who live next to the new site are not so happy.



Richard Bell,
wildlife illustrator
E-mail; 'richard@willowisland.co.uk'

Next page Previous page This day last year This month Nature Diary Home Page