The Denby Dale Road

Tuesday, 6th November 2001, West Yorkshire






This Month Rocks History Workshop Links Home Page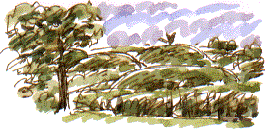 LIKE THE other roads that I mentioned on Friday, the Denby Dale Road started as a turnpike, authorised by Act of Parliament in 1825 to link Wakefield and Barnsley with Manchester.

It passes even older landmarks. These iron workings near Bentley Grange date from medieval times. Unfortunately the two that are visible from the road are steadily being ploughed out. It's worth taking the Emley turn off to see the rest of them, some forty or fifty mounds of spoil from bell pits dotted at regular intervals over the hillside.


It's good to that Yorkshire still has plenty of sheep despite the Foot and Mouth outbreak, which we're now hoping has gone for good.

The road goes through woodland, now showing autumn colour, between Scisset and Denby Dale.


Denby Dale
No list of Yorkshire villages would be complete without Denby Dale, the Pie Village. The pie, of mammoth proportions, is the centrepiece of an occasional festival. The proceeds have been used to provide the village with its Pie Hall.

The village has retained its gritty, mill-town looks. The stone-built railway viaduct striding across the valley above the old stone terraces, pubs and mills gives Denby Dale a strong visual identity. With its road and rail connections, the village is a good centre for exploring the woods and haymeadows of the surrounding dale. The Langsett Moors on the edge of the Peak District are as close as the Holme Moss at the crest of the Pennines to the west.

Since I wrote that description in my 1998 book Village Walks in West Yorkshire there has been another Pie Festival.



Richard Bell,
wildlife illustrator
E-mail; 'richard@willowisland.co.uk'

Next page Previous page This day last year This month Nature Diary Home Page