Pond, What Pond?

Wednesday, 7th November 2001, West Yorkshire






This Month Rocks History Workshop Links Home Page



TWO GOLDFINCHES feed on the seed-heads of the Teasel behind the pond.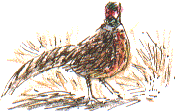 Pond? - it's so in need of weeding that this morning the cock Pheasant walked across part of it on his way to the bird table. The water plants are so rampant that no part of the water surface remains visible.


Misty rain obscures the view up the Calder valley.



Richard Bell,
wildlife illustrator
E-mail; 'richard@willowisland.co.uk'

Next page Previous page This day last year This month Nature Diary Home Page