A Walk from Ratty

Wednesday, 21st February 2001, Eskdale, Cumbria






This Month Rocks History Workshop Links Home Page



THE LA'AL RATTY, to give the Ravenglass & Eskdale Railway its local nickname, is open most of the year and today we're in luck; since it is half term they're running three steam trains a day (see link below).

As we wait for the afternoon train there's time for a meal at the Ratty Arms which opened in the old mainline station house in 1974. We've also got time for the short stroll to the ruins of the Roman Bath House which stands near the site of Clanoventa Fort, which overlooked the mouth of the Esk. Archways and walls still stand, built of local stone over 1,600 years ago. They are still held together with the original cement. According to some historians, the bath house stood more or less intact 700 years after the Romans left Britain and it became the first residence of the Pennington family, who arrived some time in the 12th century. The family later built Muncaster Castle.

There are still traces of reddish plaster on the walls of the changing room. A niche in the wall may have held a statue. After walking the fells yesterday I can appreciate how welcome the comforts of the baths and the Roman version of a sauna were to the legionaries who were stationed here. Traces of a hypocaust (underfloor heating) have been found and buttresses suggest that the substantial structure was originally topped by a vaulted roof.


Irton Park

We take the railway as far as Irton Road Station and follow a footpath via Plumgarth Farm into Irton Park. We're walking along the edge of a plantation by a secluded area of rough marshy ground. It reminds me of parts of Scotland, so I remark to Barbara, 'I'd just like to see here is a buzzard and some deer here.'

A minute later a Buzzard, the first we've seen during this holiday, appears

from over the plantation and circles over the open ground. I follow it with binoculars but Barbara soon draws my attention to three Roe Deer, a buck and two does, which have just appeared and which bound in springing jumps over the rough ground, turning and making for the shelter of trees at the far side of the clearing.


Wastwater Revisited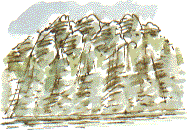 The clouds allow a few beams of sunlight through as we head up Wasdale in the late afternoon. The colours of bare hill and valley pasture glow, but, appropriately the screes on the north-facing slope behind Wastwater remain in shadow. As far as I remember, I haven't visited this lake since the early 1960s. I thought then that it was the grimmest of the Lake District lakes and it's still just as impressive today.

Related Link
www.ravensglass-railway.co.uk


Richard Bell,
wildlife illustrator
E-mail; 'richard@willowisland.co.uk'

Next page Previous page This day last year This month Nature Diary Home Page