Floods of Protest

Thursday, 8th February 2001, West Yorkshire






This Month Rocks History Workshop Links Home Page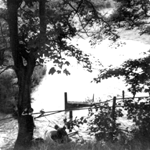 A FLOCK OF REDWINGS wheels over the meadow at the entrance to the woods. Recently, after sunset, I've heard the Tawny Owl calling from the trees alongside the stream. A year ago outline planning permission was given for 17 houses to be built here. Now the full plans have been submitted.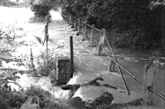 At the public enquiry in December 1999 residents showed a picture of two canoes sailing on the meadow during a flood (the photograph, top left, shows two boys preparing to launch a rubber dingy). For some reason the inspector didn't accept that special conditions were needed to avoid flood risk to the proposed houses, or to avoid increasing the risk of flooding to neighbouring houses. Admittedly there have been improvements in the flood defences along the Calder Valley so perhaps, at the time, it might have been argued that flooding on this scale was a thing of the past. But last November the meadow flooded again. About one third of it was inundated. The Environment Agency instructed the police to warn people living adjacent to the site to prepare to evacuate their homes.



I understand that the Parish Council, residents, the councilís land drainage department, the Environment Agency and local councillors raised the problem of flooding, as I have on several occasions. The inspector calls for Ďattention to site levels and a properly designed drainage systemí.

As you can see from these pictures of the field in flood conditions, that's going to have to be some drainage system!



Richard Bell,
wildlife illustrator
E-mail; 'richard@willowisland.co.uk'

Next page Previous page This day last year This month Nature Diary Home Page