The new book got a lively pre-launch feature on Radio Leeds this morning, in an interview with reporter Nicola Rees live from our patio. As this was part of Graham Liver's relaxed, topical, morning slot, not only did I have to answer the questions that I might have expected about drawing and the garden but also some questions that I wasn't expecting, like 'Do you remember your first kiss?' (a running theme through this morning's programme because of something Cherie Blair had said about her first kiss, aged seven).

Because Barbara was recording the interview and I knew my mother-in-law would be tuned in I managed to fend that one off; 'I don't remember,' I lied unconvincingly, 'I'm sure it must have been Barbara.'

Phew, got out of that one, although Radio Leeds would have had a scoop with a live on-air divorce. I could hear Graham (left) laughing through the earphones saying, 'You creep!'

But Barbara's mum phoned immediately afterwards to say how well she thought it had gone and she said to Barbara 'I knew he was going to say that when she asked that question!'

Got through that quite well then.


Nicola Rees of Radio Leeds on location in our back garden
Tadpole Sushi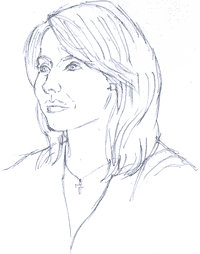 I found myself being asked speculate on what the blue tit in the crab apple tree was thinking at that moment and I did an impression of a smooth newt popping down small tadpoles one after another, as if it was eating sushi:
'PWOP! . . . PWOP!'
'If your first kiss was like that, I'm surprised you didn't scare Barbara off!' said Nicola.
Portrait of a Reporter
Nicola had time for a coffee before setting off for her next interview so we sat in the sun at the patio table and I drew her looking towards the bird feeders (typically the birds came back in numbers just as soon as the interview was over).
I thought perhaps I'd made her look too young, Nicola thought I'd made her look too old and Barbara thought it wasn't a good likeness. But we were chatting as I did it and I think by making her sit still as I did it, I didn't capture her on-air personna of bubbliness.
Actually she's pretty bubbly in real life too.

Links
Radio Leeds - there's 'listen live' option: my friend Tanya in Singapore managed to tune in!
Rough Patch - you can now order the book online
Richard Bell, richard@willowisland.co.uk