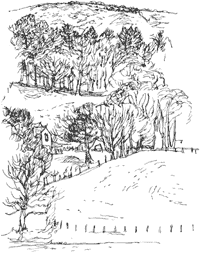 We're back at Ladybower, at Fairholmes Visitor centre, where I draw this view to show moorland, woodland, farm and lakeside.
It's a bit breezy for drawing so we take the opportunity to explore one of the trails climbing through conifer plantations to upland pasture and the moorland edge returning back down along winding forest trails to Derwent dam head. There's somewhere I'll come back and draw.
Holmfirth
We come back via the Snake Pass again but, as we explored Glossop last time we were out this way, we decide to call in Holmfirth (right) to find something to eat.
But we've chosen the wrong time. It's around 5 pm and the cafés have closed but the restaurants haven't yet opened. In the late afternoon sun the town looks as mellow as it does in long-running comedy series The Last of the Summer Wine.

Richard Bell, richard@willowisland.co.uk